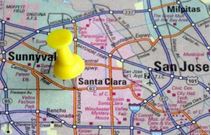 New York City-based Deutsche Asset & Wealth Management, formerly known as RREEF Real Estate, expects to achieve an initial yield of 6 percent on the 431,490 square-foot Oakmead West buildings in Sunnyvale that it has acquired from Equity Office.
Deutsche
Asset paid $275.7 a square foot in an all-cash transaction, according to industry sources with first-person knowledge of the exchange.
The acquisition is one of three that the real estate manager has made on behalf of three institutional investors for $266 million total. The other two properties are an 89,074-square-foot Calabasas, Calif., neighborhood shopping center, The Courtyard at the Commons, and a 319,844-square-foot Seattle office property at 605-625 Union Station.
Todd Hen
"As we continue to leverage our strong industry relationships and expertise in the local markets in which we operate, we are very pleased to add these high-quality assets to our clients' portfolios," he said.derson, head of real estate Americas for Deutsche Asset & Wealth, said the three properties share similar qualities, including "a dynamic location within a core market, currently with stable tenancy that should provide consistent income, and low in-place rents relative to market, which we expect to provide appreciation over time."
Read the rest of the story at The Registry here.